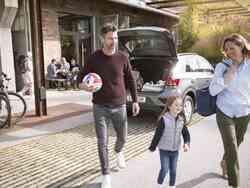 Why take out a car subscription?
The car subscription is a new form of mobility that is characterized in particular by its flexibility: As a customer, you choose the car you want from our range and then pay a fixed monthly price that already includes all maintenance and insurance costs, registration, and the highway vignette for Austria - with no start-up fee. At the same time, you have the unique opportunity to change your selected car model on a monthly basis. Thus, autoabo offers you a middle ground between a car rental, which scores with its high flexibility, and a leasing model, which is especially worthwhile for use over many years.
A fixed price without ifs and buts
With the Porsche Bank autoabo, you only pay a fixed monthly price.
Maintenance, car insurance, registration, Austria vignette and winter package are already included (only fuel is exclusive).
Free mileage package from 500km included
More flexible than ever
autoabo makes it possible to change cars every month - today a city runabout, tomorrow a spacious SUV.
You can freely choose from our range of available cars from the Volkswagen family within your contract.
Simple & straightforward
All autoabo variants are all-inclusive packages, through which you can easily budget your costs.
Concluding an autoabo contract is quick and uncomplicated - our experts will support you.
You don't have to worry about the depreciation of your vehicle with an autoabo: At the end of the term, you simply return the car.
Variable terms
autoabo adapts to your needs - depending on whether you need the subscription for 3, 6 or 12 months.
The contract can of course be extended at any time.
Is a car subscription right for me?
Yes. Probably the most important advantage of a car subscription is that it's hard to beat in terms of flexibility. If you only need a car for a limited period of time, a subscription is definitely the best choice. For example, you can use it for a specific project, seasonal work activity, or for a more pleasant commute or travel during the cold season.
Are you considering switching to the more environmentally friendly hybrid or electric drive, but aren't yet sure if it's really right for you? Or maybe you enjoy the feeling of freedom of being on the road in a convertible in the summer, but prefer to drive a sedan or SUV in the winter? In this case, too, a car subscription is ideal - after all, you can choose from different models and change them easily.
No. If you need the vehicle for a longer period of time, car leasing is more worthwhile from the current perspective. In this case, the monthly installments are more favorable than with a car subscription. Even if you attach importance to individual customization of the car, you are better off with a leasing or purchase contract.
Conclusion
Would you describe yourself as a free spirit? Do you have little desire for a long-term commitment or a lot of effort with regard to your vehicle - but enjoy an uncomplicated, comprehensive service? If you don't want to worry about maintenance or tire changes, don't want to deal with unnecessary paperwork, and always want to keep an eye on costs, a car subscription is the right choice for you. These conveniences come at a price, but the decision of whether it's worth it to you is ultimately up to you. However, the unmatched flexibility of a car subscription makes it a relatively risk-free experiment. You can cancel quickly and easily if you are not completely convinced.