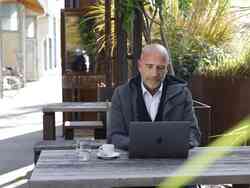 MOBILE WORKING
The office is where I am.
Digitization and new mobile work options are turning our ideas of office work upside down. We asked Michael Bartz, an expert on the "New World of Work," about the changes in professional life.
Keyword New Work: What does the new working world look like?
It is strongly characterized by two things: mobility and digitization. Corona has given us a big leap forward in both areas. A recent comparison shows that: before the pandemic, 18 percent of companies enabled their employees to work on the move. Surveys show that 60 percent of companies would like to continue this after the pandemic. In the area of digitization, we have all learned. In the beginning, video conferences made many people despair, but now they are routine.
How much home office time makes sense?
There needs to be a balance between time spent in the office and at the desk at home. Working exclusively in a home office is not a good idea, even if it would probably be possible for some activities - such as accounting. But new work doesn't necessarily mean a home office. It's mobile working that's not tied to a desk in the office.
What exactly is meant by that?
It's about a different idea: The office is where I am. I can work at home, on a park bench, in a coworking space or in a coffee house.
There are hardly any boundaries. For example, it makes sense for me to drive to the countryside as early as Thursday to avoid the weekend traffic. On Friday, I can work there on a mobile basis. Technically and organizationally, there are only a few hurdles.
What does that mean for companies?
The classic office with a desk and family photos is a discontinued model. Many tasks can be performed regardless of location.
The self-selected environment can also promote concentration. But the social function of the office cannot be ignored: Collaboration and communication play a big role. When people get together in the office, it ultimately strengthens team cohesion.
Where do you prefer to work yourself?
I like a mix of office and home. With the students I teach at Krems UAS, I like to go outside for lectures. The nice thing is that you can find a working environment that suits the task at hand. I appreciate that very much.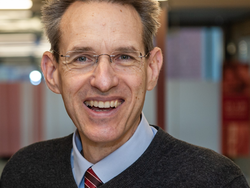 About the person :
Michael Bartz was an industrial manager for many years before accepting a professorship at IMC FH Krems in 2010. He heads the research area "New World of Work" and is an expert in the fields of "Future of Work" and "Productivity".