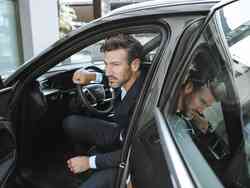 autoabo packages at a glance
Are you looking for compact cars for a day? Would you like to immerse yourself in the world of e-mobility and use an emission-free runabout? Or should it be a vehicle with plenty of storage space for the whole family? No matter whether you are looking for long-term or short-term mobility: Our four autoabo models leave nothing to be desired. Click on "To the offers" to put together your individual package.

A fixed price without ifs and buts
With the Porsche Bank autoabo, you only pay a fixed monthly price.
Maintenance, car insurance, registration, Austria vignette and winter package are already included (only fuel is exclusive).
Free mileage package from 500km included
More flexible than ever
autoabo makes it possible to change cars every month - today a city runabout, tomorrow a spacious SUV.
You can freely choose from our range of available cars from the Volkswagen family within your contract.
Simple & straightforward
All autoabo variants are all-inclusive packages, through which you can easily budget your costs.
Concluding an autoabo contract is quick and uncomplicated - our experts will support you.
You don't have to worry about the depreciation of your vehicle with an autoabo: At the end of the term, you simply return the car.
Variable terms
autoabo adapts to your needs - depending on whether you need the subscription for 3, 6 or 12 months.
The contract can of course be extended at any time.
Basic protection package
Your vehicle is insured with a deductible per claim.
Approval
The statutory vehicle tax and liability insurance is already included.
Freeway vignette
Including road tax/vignette for Austria (except special toll).
Free kilometers
500 km per month included, by means of additional package you can increase to 1,000, 2,000 or 4,000 km per month.
Trip abroad
You can travel to all EU countries, Switzerland and Liechtenstein.
Additional driver
You and another driver may drive the vehicle.
Young driver surcharge
For drivers under 25 years

Vehicle delivery / pickup
Free initial delivery & collection at the end of the contract to your address in Austria
Lean back & enjoy
All the above points are done for you