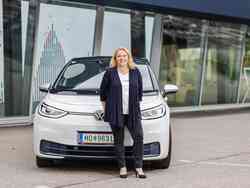 autoabo for beginners and switchers
Since Stefanie Winzl took over the event management of MOONCITY Salzburg, it was clear to her: "Our next family car will be an e-vehicle." MOONCITY Salzburg is an experience world all about electric mobility. "I was immediately hooked. I also saw from my colleagues in the field how uncomplicated electromobility is, even over longer distances." When the existing leasing contract expired in the spring, she and her family decided to buy a ŠKODA ENYAQ iV. Because the old car had already been sold in the summer, an interim solution was needed until the new car was delivered in the fall. When Steffi heard about autoabo, she had found the perfect solution for her needs. "The idea is brilliant, it doesn't get any better than this," says Stefanie Winzl. "Three-month terms fit the bill perfectly for us."
At first, the family opted for a ŠKODA FABIA; in mid-August, they switched to a VW ID.3. "I returned one vehicle and got the other," says Winzl about the uncomplicated process. The family vacation in August then already went electric in southern Styria. Not only Ste- fanie Winzl and her husband Daniel were thrilled by their first experience with e-mobility. The new driving comfort is also well received by daughter Anna. "The car is so quiet and pleasant to drive, Anna no longer has to complain about not hearing the radio," Stefanie sums up.
In the fall, Stefanie Winzl will switch from the autoabo to her own electric vehicle. The car is still being charged in the garage with a plug-in cable.

Porsche Bank autoabo at a glance:
Complete package
all services at a fixed monthly rate
Wide range
of different categories and models
No entry fee:
sign up for a autoabo and drive off
Free specification
of second driver in each package
Flexible subscription periods:
3, 6 and 12 months, can be canceled free of charge after one month, regardless of the subscription rate
Monthly exchange
Possible between vehicle categories without additional costs
500 free kilometers
per month included. Alternatively, 1,000/2,000/4,000 km per month can be selected