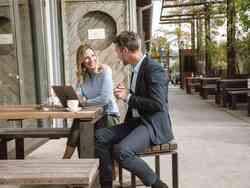 Car subscription vs. car purchase
Where is the difference?

There is now a suitable mobility solution for every individual need. Would you like to own a new car? Then a car purchase is the right thing for you. Or would you prefer to be flexible and use a car for a limited period of time? Then you should think about a car subscription. In the following article you will learn everything you need to know about car subscription vs. car purchase
Discover offers
Definition of term
Car subscription

Today, mobility services must be one thing above all else: Flexible. A car subscription is characterized by the fact that you can use a selected model for an agreed term at a fixed monthly rate (excluding refueling and charging). This price includes all costs such as maintenance, repairs, insurance, registration and highway vignette. Porsche Bank's autoabo even gives you the freedom to change models on a monthly basis.
Car purchase

If you want to drive a car for a longer period of time, the car purchase is the right solution. In this case, the car becomes your property after the purchase is completed. This entails the right to use it within the limits of the law, but also some obligations. In contrast to the car subscription, with the car purchase you have to take care of the maintenance, insurance and everything else yourself. Buying a car is usually worth it if you plan to really use it for a longer period of time, as the loss of value occurs very quickly.

For a better understanding, the following table will show the differences of car subscription vs. car purchase at a glance.
Overview table: Subscription advantages over car purchase
| Performance | autoabo | Car purchase |
| --- | --- | --- |
| Loss of value | no Loss of value | € |
| Liability | ✓ | € |
| Registration (incl. vehicle tax) | ✓ | € |
| Vignette | ✓ | € |
| §57a sticker check | ✓ | € |
| Maintenance, repair and wear | ✓ | € |
| Summer or winter tires | ✓ | € |
| Tire change | ✓ | € |
| Regular model change | ✓ | € |
| Fueling and charging costs | € | € |
✓ Service included | € Charged


Compared to buying a car, the Porsche Bank autoabo includes all the services listed (except fuel and charging costs). This means that you do not have to worry about fixed costs such as insurance (liability), registration costs or the freeway vignette. The same also applies to maintenance costs such as the sticker check, summer and winter tires and tire changes. In addition, with the subscription you don't have to worry about loss of value. When buying a car, all the above services must not only be organized by the customer, but also paid for separately. In addition, when buying a car, it is not possible to change the model at regular intervals, but with the Porsche Bank autoabo it is.
A fixed price without ifs and buts
With the Porsche Bank autoabo, you only pay a fixed monthly price.
Maintenance, car insurance, registration, Austria vignette and winter package are already included (only fuel is exclusive).
Free mileage package from 500km included
More flexible than ever
autoabo makes it possible to change cars every month - today a city runabout, tomorrow a spacious SUV
You can freely choose from our range of available cars from the Volkswagen family within your contract.
Simple & straightforward
All autoabo variants are all-inclusive packages, through which you can easily budget your costs.
Concluding an autoabo contract is quick and uncomplicated - our experts will support you.
You don't have to worry about the depreciation of your vehicle with an autoabo: At the end of the term, you simply return the car.
Variable terms
autoabo adapts to your needs - depending on whether you need the subscription for 3, 6 or 12 months.
The contract can of course be extended at any time.
Basic protection package
Your vehicle is insured with a deductible per claim.
registration
The statutory vehicle tax and liability insurance is already included.
Freeway vignette
Including road tax/vignette for Austria (except special toll).
Free kilometers
500 km per month included, by means of additional package you can increase to 1,000, 2,000 or 4,000 km per month.
Trip abroad
You can travel to all EU countries, Switzerland and Liechtenstein.
Additional driver
You and another driver may drive the vehicle.
Young driver surcharge
For drivers under 25 years

Vehicle delivery / pickup
Free initial delivery & collection at the end of the contract to your address in Austria
Lean back & enjoy
All the above points are done for you