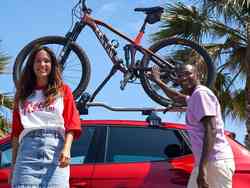 Car subscription vs. car purchase
Where is the difference?

There is now a suitable mobility solution for every individual need. Would you like to own a new car? Then a car purchase is the right thing for you. Or would you prefer to be flexible and use a car for a limited period of time? Then you should think about a car subscription. In the following article you will learn everything you need to know about car subscription vs. car purchase
Angebote entdecken
Definition of terms
Car subscription

Today, mobility services must be one thing above all else: Flexible. A car subscription is characterized by the fact that you can use a selected model for an agreed term at a fixed monthly rate (excluding refueling and charging). This price includes all costs such as maintenance, repairs, insurance, registration and highway vignette. Porsche Bank's autoabo even gives you the freedom to change models on a monthly basis.
Car purchase

If you want to drive a car for a longer period of time, the car purchase is the right solution. In this case, the car becomes your property after the purchase is completed. This entails the right to use it within the limits of the law, but also some obligations. In contrast to the car subscription, with the car purchase you have to take care of the maintenance, insurance and everything else yourself. Buying a car is usually worth it if you plan to really use it for a longer period of time, as the loss of value occurs very quickly.

For a better understanding, the following table will show the differences of car subscription vs. car purchase at a glance.
Change your model
If you are not satisfied with your desired model, then you can change your vehicle within the subscription package on a monthly basis. For example, if you want to swap a city car for a van, you are welcome to do so. Here, too, our experts will be happy to advise you.

Other important questions & answers
Which countries can I travel to with the autoabo?
One of the most important questions regarding the vacation with autoabo is of course the respective destination. You can drive the vehicle to all EU countries, Switzerland and Liechtenstein. Of course, the green insurance card is in the glove compartment. Before driving, you should still inform yourself about any national conditions (speed limits, parking situations, etc.).
Are multiple drivers allowed to drive the vehicle?
Basically, you and another additional driver are allowed to move the vehicle. This is included in the price and does not cause any additional costs. If you need more drivers, additional costs will be charged. It is important to note that all drivers are mandatory. The reason for this is liability reasons.

Is a freeway vignette included in the price?
If you are planning a long road trip or vacation, then you probably can't avoid the highway. But that is not a problem! Each of our vehicles is equipped with an electronic vignette for the Austrian highway network. Not included in the price are separate tolls, for example, if you need to cross a pass.
Are there also e-models on offer?
At the moment we offer the electric cars SEAT Mii Eletcric, VW E-Golf and ŠKODA Enyaq. Please note that we are constantly expanding our offer. For this reason, it is worth taking a regular look at our offers. It is important that you find out about suitable charging stations as soon as you decide on an e-model.
Arrange your consultation appointment
If you have any questions or suggestions, please contact us by mail at autoabo@porschebank.at. We look forward to seeing you soon immerse yourself in the autoabo world and have an unforgettable time with your loved ones on your next vacation.